As the world adjusts to a Trump presidency, something akin to being in an episode of the twilight zone, the real big winner of the last couple of weeks, has been cannabis.
Unlike fracking which has been causing actual earthquakes, the only earthquakes cannabis has been causing are political and economic!
Montana, Arkansas, North Dakota and Florida all legalised medicinal cannabis, while the recreational vote was taken and won in Maine, Arizona, Nevada, Massechusettes, and finally, most significantly, California! The world's sixth biggest economy with a population of around 39 million!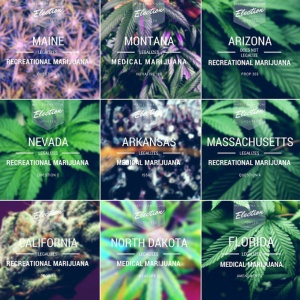 To put that in to perspective, the UK has a population of 65 million, and is currently ranked as fifth! This has some commentators predicting that the war on drugs, is as good as over!
And it's not just America! Denmark have just approved medical studies, Norway have gone with medical, Bureau of Standards Jamaica (BSJ) has sought permission from the Government to import some 100 ganja seeds for a pilot project that is expected to guide the development of a regulatory framework for the country's emerging medical marijuana industry, Spain, 11 months without a government, have seen their economy grow, unemployment fall and has become as one article puts it, "a nation of stoners" as the number of cannabis clubs rise!
Berlin are pushing ahead with a medical trial, and the Canadian stock market had to stop trades on six companies when circuit breakers kicked in. The breakers are tripped when a stock climbs more than ten percent in five minutes.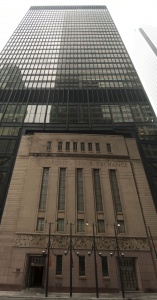 The companies that tripped the breaker were Aphria, Aurora Cannabis, Mettrum Health Corp, OrganiGram, Canopy Growth, and Supreme Pharmaceuticals, all of which deal in the wonderful world of weed.
And now thanks to the campaigning of Vera Twomey of Co Cork who wants cannabis oil to treat her six year old daughter, Ava's, Dravet syndrome, Ireland health minister Simon Harris, has called for an "expert report into medicinal cannabis law".
He may want to have words with Simon Jenkins who believes that it has already been done, and the UK should hurry up and get on with catching up with global opinions!
"Still under the shadow of the archaic and unworkable 1971 Misuse of Drugs Act, its prisons are bursting at the seams. In our prisons, drugs find their way in all too easily, and drug use is higher there than in any other institutions in the land – a laugh in the face of a prohibitionist Home Office. While European nations from the Baltic to the Atlantic move slowly towards liberalisation, reactionary Britain holds out for idiocy."
Just like many others, the Colorado model is being highlighted as the obvious success story, with Denver now moving things up a notch and including social use programs to bring cafes in to their already burgeoning market.
The war on drugs has failed!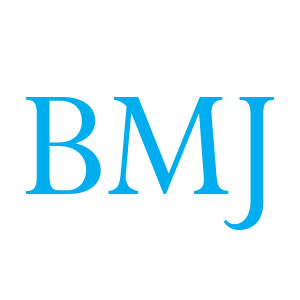 In an intervention from the the British Medical Journal this week, doctors have been urged to use their authority to call for drug policy reform. This was backed up by Nick Clegg, Molly Meacher, and Richard Branson on the same day, who all called the war on drugs a failure that should have ended 50 years ago! When you consider that America has wasted more than $1 trillion on demonizing drugs, many of which, like weed, have real medical benefits, you can understand their sentiment.
Never the less, Tory party HQ have trundled out their usual tired old line of;
"Cannabis is controlled as a Class B drug under the Misuse of Drugs Act 1971 and, in its raw form, currently has no recognised medicinal benefits in the UK. It is therefore listed as a Schedule 1 drug under the Misuse of Drugs Regulations 2001."
All evidence to the contrary that the war on drugs is to cost more lives as harm reduction strategies stall. In particular when it comes to ethnic minorities, which according to one study, has led to the spread of HIV among these communities.
One has to wonder why a money hungry party like the Tories would balk at the legalisation of cannabis at a time when;
On top of all of that, thousands of hospital beds are set to disappear! Pregnant women will face long trips to give birth and a string of A&E units will be downgraded or even closed altogether as part of controversial NHS plans to reorganise healthcare in England.
As always, the devil is in the detail. Just as in every country, government set the standards for what is allowed to be available. In the UK, that would obviously be Westminster, where 80% of Tories have connections to health care firms. As talked about before by this page, the real cost to the NHS isn't the people who work in it, or the patients who use it, its the cost of drugs supplied to it.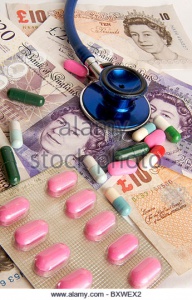 Using a Tory loophole, millionaire businessmen have taken £262million a year out of the NHS. This money, equivalent to 7000 junior doctors, has been stripped from the NHS to become private profit. And guess who's being paid to advise on drug pricing? Former Health Secretary Andrew Lansley!
The startling figures came to light after a seemingly bewildered Jeremy Hunt called in the Competition and Markets Authority (CMA) after it emerged that 32 drugs had seen price hikes of up to 1000% in 5 years. A further 196 have seen their prices doubled. In the most extreme case hydrocortisone tablets, a common allergy medicine, have risen by 12500% – from 70p in 2008 to £85 today.
The greedy "entrepreneurs" exemplify the worst kinds of vulture capitalists. They buy up exclusive marketing rights to off-patent medicines and then hike the prices. All they need to do is re-brand the product with its generic name, as generic products have no NHS price controls whilst named products do. This obvious loophole can then be exploited to raise the price of medicines to record highs.
With those sort of figures, they can't have people self medicating at home! It would adversely materially affect them, aka, hit them in the pocket! Is it any wonder that near on £1 billion contracts are being handed out without agreeing services or prices?
This is despite the fact that the NHS spends £600m a year fixing botched ops by private healthcare firms that Jeremy Hunt likes to praise! Not that that's stopping them outsourcing even more parts of the NHS to the lowest bidder and putting patient safety at risk by substituting registered nurses with support staff though. By doing so, they can make a killing on NHS Professionals, the health service's main staffing agency, which provides 90,000 health workers to around a quarter of NHS trusts, covering two million shifts a year.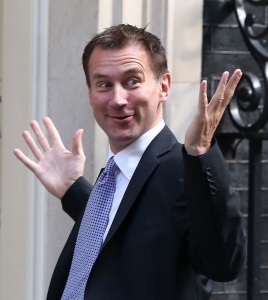 In a written statement issued as most MPs headed back to their constituencies, the Government announced it would sell off a majority stake in the orgnaisation to the private sector with the aim of "creating a profitable business model". Jeremy Hunt wants his marble foyers after all.
But then what do you expect of a party who completely ignore the UN when they're slammed for having abused the human rights of our society's most vulnerable, who called the green paper, 'devastating', 'unethical', and 'cruel'?
The introduction of tougher fit-to-work tests for sick and disabled people have coincided with hundreds more suicides and thousands more cases of mental illness, academic researchers have said.
In findings that could be hugely damaging for the Government's welfare reform agenda, experts from the universities of Liverpool and Oxford said that up to 590 additional suicides, 279,000 cases of mental ill health and 725,000 more prescriptions for antidepressants between 2010 and 2013 were associated with the introduction of the more stringent Work Capability Assessment (WCA).
Urgent action has been called for to address the plight of tens of thousands of mental health service-users who are subjected to detention and compulsory treatment under "intrinsically discriminatory" legislation, according to a leading disabled expert.
Dr Rachel Perkins pointed to figures which show that the number of detentions under the Mental Health Act (MHA) rose by its highest proportion in 2014-15, to more than 58,000.
The riots at Bedford prison show the problems facing institutions. We need to stop locking up addicts and people who are mentally ill!
A lot of mentally or physically disabled people are those that benefit from using cannabis. So as well as facing the full force of a system that wishes to demonise them as layabouts, they potentially face the full force of the police as well, the figures would suggest!
Liz Truss, the justice secretary, squirmed as she was asked on Sky News if she was out of her depth in dealing with this situation.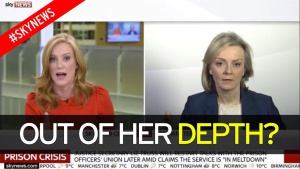 She always has been! As environment secretary, she believed biomass would threaten food security, and allowed farmers to use blacklisted pesticides linked to serious harm in bees after the UK temporarily lifted an EU ban. The same pesticides that have led to bees being put on the endangered list in the US.
Both issues could have been solved with hemp had she had the ability to do her homework!
Hemp biomass, we all know about. Hemp and bees, is a little less known.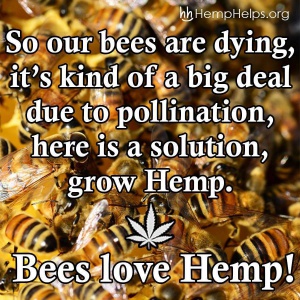 A study conducted in Punjab, India and published in 2012 showed that during a floral dearth period (in Punjab, this occurs in May and June), honey bees (Apis mellifera) turned to the abundant male cannabis plants growing wild in the region as a pollen source. As cannabis flowers do not produce nectar, the bees that were observed feeding on the plants were specialized pollen-gatherers only.
Furthermore, bees were observed feeding on male flowers only during mornings and evenings, and were absent at other times. This is due to the fact that anther dehiscence—the process whereby the male reproductive organs split to release pollen—occurs during these times. Thus, bees are attracted to cannabis plants, but only to males, only during floral dearth periods, and only during periods of peak pollen production.
The report concludes, "This study will help to provide guidelines to make local floral calendar, standardizing the seasonal management practices for apiculture and recognization of Cannabis sativa as subsistence honey bee flora."
Not that I expect to see many of the various charities calling for policies to be put in place to save the bees to include weed farming in their agendas any time soon.
The Tories voted down a bid to reveal the impact of their £3.4 billion worth of cuts. They saved themselves the bother of having to shell out to cover it up later like they had to the £100k from the tax payers purse to cover up their forced labour scheme!
They did the same with veterans this week. Defence Veterans Minister Mark Lancaster has said, The government does not want to create a new department to care for veteran service personnel. Former servicemen and women are supposed to get help to ensure they have a roof over their heads under the UK Government's Military Covenant. The Scottish Veterans' Residences (SVR), set up to offer supported accommodation to homeless ex-servicemen and women, has told The Sunday Post it is on course for a 21% increase in applications this year.
Despite the fact the Tories intend on pushing forward with yet more unnecessary austerity, no matter what the human consequences, or the £859 per year in lost pay rises it costs ordinary folks, we can still afford to shell out £369 million to refurbish Buckingham Palace!
And at a time when climate change models are showing that global warming is accelerating to the point of a 7 degree celsius rise, The Ministry of Justice has just published a set of proposals that will make it increasingly difficult to challenge controversial projects, such as fracking, on environmental grounds.
For anyone who knows about cannabis, we all know that climate change is the ace in the hole! Show me another resource that can sequester as much CO2 from the atmosphere as weed, while simultaneously replacing fossil fuels!!
The world is truly going crazy!!
Or is it??
You see, there are tell tale things going under reported that are gradually gaining traction. For instance, the Spanish resurgence appears to be taking place on the back of alternative currencies. The daddy of alternative currencies, as anyone knows, is BitCoin. A currency that is currently trending in the cannabis industry due to federal restrictions to banking.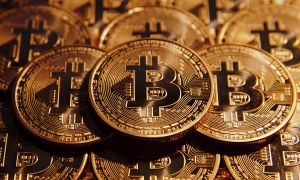 Investors in Californias tech heartland of Silicon Valley, upset with Trump's win, have been calling for the state to secede from the US. When you have a potential $22 billion industry and no federal banking access, the leap to digital currencies in a digital age makes sense for a place like Silicon Valley.
Technology Is Priming Secession and Decentralisation!
The American petrodollar is built on a highly unstable resource that sees global markets fluctuate all of the time. A cannabis backed BitCoin isn't that much of a stretch and is obviously gaining traction. Anyone who uses Silk Road knows this.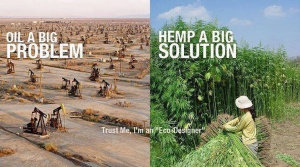 When you also take in to consideration that expenditure on cannabis is already out performing expenditure on fossil fuels, an industry that can be replaced by cannabis, you can see why BitCoin is predicted to see a surge in price.
The cannabis industry is reshaping communities and societies across the globe. Two weeks ago the beginnings of the UK movement have finally been recognised as coming of age with UKCSC's first AGM.
Teesside Cannabis Club seem to have to taken quite a bit of good press from this with one article saying;
Bone was impressed with how the clubs attempted to integrate into society and normalise their work as opposed to simply trying to be rebellious. "For example Teesside Cannabis Club are working with their local Police, the media, and other bodies. You do definitely need to be provocative and protest, but at the same time trying to work with different bodies in society is the way to get things done and get things moving."
The war on drugs was brought about to create division in communities. Teesside Cannabis Club have tried to counter that narrative by working with disparate bodies to get somewhere.
Hopefully the AGM will lead to some manner of unionisation, not just for the clubs, but also for shops and businesses with an interest in cannabis. Head shops,hydro shops, seed banks, and every other UK business, that could benefit from bringing this industry here!
Cannabis in particular is something a party like the Tories with their 'corrosive' social mobility policies don't like to get in to deep conversations about!
When viewed as a resource rather than just a drug, we can connect various communities. Whether it be those of us who disagree with NHS privatisation and the postcode lottery for drugs access! Or those of us who realise that cannabis and hemp farming is far more profitable and practical than fracking and fossil fuels in a time of rampant global warming and bees being added to the endangered list!
This industry is all about building communities, something the war on drugs has never been able to break!